Peanut Massage Ball
Say Goodbye to Muscle Pain Once and For All!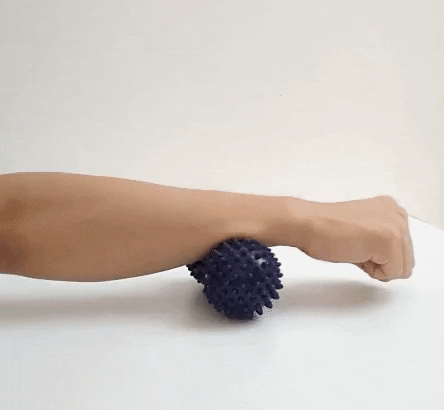 Knots and muscle tension are a pain (literally). Formed from increased stress and anxiety, sitting or standing too long, prolonged workouts, and injuries...knots and tension are a problem a lot of us struggle with.
Thankfully, The Body Peanut offers a quick and easy solution to get rid of this constant pain that many of us deal with each and every day!
Highlights
✔️ Easy pain relief - Uses trigger point therapy to increase blood flow, relieve knots and tension, get rid of muscle soreness, and increase flexibility!
✔️ Easy to use - Simply use your body weight against the wall, floor, or table to release tight muscles and tension. Our product is highly recommended and widely used by doctors, physical therapists, and athletes!
✔️ Whole body massage - The unique shape allows you to massage any area of your body. Including your neck, shoulders, arms, palms, legs, and feet!
✔️ Trigger point therapy - Finds the spots within your muscles that are causing pain, and quickly and easily uses pressure to release tension within your body!
✔️ Promote blood flow - The Body Peanut's design allows for increased blood flow within your muscles, which allows for quicker recovery time after each use. Meaning a quick and easy way to get rid of muscle pains!
✔️ Spiked design - The unique "spiked" design digs deep into your muscle tissue to reach the affected area easier than other self-massaging devices!
✔️ Portable and durable - The Body Peanut is made of PVC material. They are high quality, latex-free, non-toxic, odorless, durable and can withstand heavy and continued use without damage. They are easy to clean, lightweight, suitable for travel, and can be used at home, in the gym or anywhere else you may be!
Description
The Body Peanut is a MUST have for anyone struggling with any kind of muscle pain.
Muscle pain, knots, tension - whether you have foot pain, back pain, or neck pain (or anything in between), we know the LAST thing you want is to be in constant pain.
Muscle relief in just a few cumulative uses of The Body Peanut will leave you better able to move, and feel better in your own skin!
Its unique spiked design and functionality make it the perfect, at home, self massaging product. Simply apply The Body Peanut to your area(s) of discomfort, add pressure, and roll back and forth on a hard surface to easily get rid of muscle pain!
Not only will The Body Peanut make your muscle pain go away quickly and easily, but its size and design make it fit any area of your body to solve any muscle discomfort!
And since our product incorporates a "spiked" design to use trigger point therapy, you'll never have to worry about muscle pain being an issue again.
A true "no-brainer" for anyone dealing with any type of muscle pain. 
Specifications
Material - PVC
Color - Green, Red, Blue, Purple, or Light Green
Weight - 40 grams
Size - 15cm x 7cm x 7cm
Package Includes
1x The Body Peanut
Shipping
7-18 days to the USA, 14-30 days for international orders.
50% OFF + FREE SHIPPING FOR A LIMITED TIME ONLY. JUST CLICK ADD TO CART TO GET YOURS NOW!
FAQs
What is The Body Peanut?
It is a self massaging product that uses "spikes" to incorporate trigger point therapy, which is the best proven way to get rid of muscle pain!
How do I use The Body Peanut?
Simply use the wall, the floor, a table, or any other hard surface. Then apply pressure, slowly rolling back and forth. Do so for a maximum of 15 minutes per affected area!
Should I use The Body Peanut every day?
Absolutely! We recommend using our product for 15 minutes a day, every day. Until your pain is gone. This will give you the best results!
Can I put this is my refrigerator or freezer to get a cooling effect?
Yes, a lot of our customers have done this and said they got great results from doing so!
Can I use The Body Peanut on my feet?
One of the most common uses of The Body Peanut is on the feet, so you should definitely use it there if that is a spot giving you pain!
Shipping Info

All Packages are shipped within 48-72 business hours and delivered within about 7-14 business days.
Money-Back Guarantee

100% Money-Back Guarantee

If you don't like it you have 30 Days To return your order and get a full refund! Please contact our team at info@neecoofficial.com or visit our Contact Page.
Return policy

If you aren't completely satisfied with your product, return the item within 30 days of delivery for a refund (see refund policy for more details)

Please contact our customer service team if you need to process a return for any reason, support@neecofficial.com

Please include your Order Number and Name.