Are You Spending Hundreds To Play Your favorite retro Games?!
The NEW MINITENDO comes pre-loaded with 400 Classic 8-Bit Games that you used to skip homework for!

Arcade retro games
Football
Sports
Puzzle
Shooting
Action
Racing
Fighting games
Adventure and more...
Relive your past with the MINITENDO! With over 400 games bundled into one convenient player, It is a perfect companion to keep your children occupied and have a good time playing. It can also take you back to your childhood.
*Please Note this is a limited time discount*
WHY MINITENDO
🎮 - Portable and trendy, The handheld game console contains 400 popular games: Arcade retro games, Football, Sports, Puzzle, Arcade, Shooting, Action, Racing, Fighting games, Adventure and more.
🎮 - Rechargeable Battery: Comes with a rechargeable lithium battery and a USB cable plug & play. Roughly 5-6 hours of continuous gameplay!
🎮 - Plug directly into the TV with the provided Cable for big-screen playing
🎮 - Perfect for traveling or on the go.
🎮 - Optional Upgrade: Choose to add a remote control at checkout to allow 2 players to play at once! (Works great when plugged into TV)
How does It work?
To turn on the MINITENDO simply use the ON/OFF switch at the top corner of the device.
From here you can use the up and down arrow to navigate between games.
There is a volume switch on the bottom corner of the device and you can also plug headphones directly into the top left of the console.


To plug the console into the TV simply plug the provided cable into the headphone port at the top of the device and the other end plugs directly into your TV.


The MiniTendo comes with a superpowerful rechargeable battery that you charge using the provided USB cable (Just the same way you charge your phone)


You can expect up to 6 hours of gameplay from a single charge!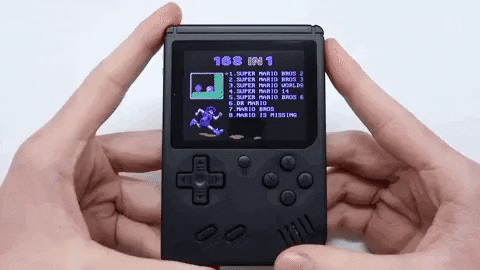 Perfect For Gifts!
Grab The MultiPlayer Bundle and Play with a Friend or Family member!
Play in handheld mode or hook it up to the TV on Christmas morning and watch their face light up as they enjoy hours of endless fun!
FAQs
Does It Need Internet To Work?
No, it does not require internet!
Can I put my own games on it?
Unfortunately not, however, there are 400 built-in games
Do I need to change the batteries?
No, this is powered by a rechargeable battery (Charger Included)


50% OFF + FREE SHIPPING
100% MONEY-BACK GUARANTEE
Order right now with confidence! Try it out for 30 days and if it doesn't work for you, you'll get your money back! There's absolutely no risk in giving it a try.